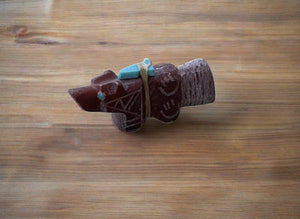 Zuni Fetish Meanings
American Indians have used fetishes throughout recorded history. Fetishes are believed to hold magical powers and protect the owner or craftsmen from various problems of mind or body. Some believe that their mystical powers can even protect against problems of the universe. It is also believed that the care a fetish receives is directly proportional to the protection it will provide. Indians believe that fetishes must be properly cared for. They are given offerings of cornmeal and kept in special turquoise encrusted fetish pots or pouches. Often fetishes are adorned with turquoise, arrowheads and feathers. These are offerings to the fetish for gifts received or anticipated. Zuni Indians believe in the six cardinal guardian fetishes. Each guardian fetish guards one of the six directions: the mountain lion is the guardian of the North, the badger guards the South, the bear defends the west, and the wolf is the guardian of the East. The mole is the guardian of the inner Earth and the eagle is the guardian of the Sky. 
Fox- Fox is clever and observant. He has the ability to blend in with his surroundings and is very loyal to loved ones.
1 3/4" x 1/2"