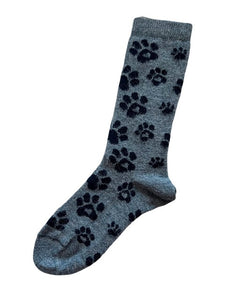 New for 2023
Dog Paw Alpaca Socks – These are our mid weight all over paws alpaca socks and the 1″ elastic band is knit at the top of the sock. These socks were designed by Mary Ann Weerts, our founder. We needed a smaller micron yarn to create this more intricate design. This is a great trouser sock for work as this is a mid weight sock.
These are still soft, warm and very comfortable yet lighter weight and not as thick in your shoe or boot. Mary Ann loves the "Dog Paw" socks for a new look. 41% Alpaca, 34% Acrylic, 23% Nylon and 2% Spandex.
Sizing is by shoe size and the socks are unisex
Medium: 5-9, Large: 10-13
AlpacaArte – your home for warm, soft and comfy alpaca socks!