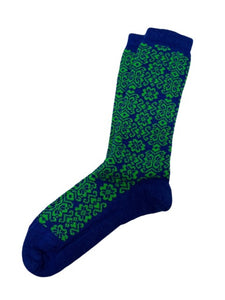 Description
Corazon socks – These are our mid-weight floral heart design with a 1″ elastic bank at the top of the sock. These socks were designed by Mary Ann Weers, our founder.
We needed a smaller micron yarn to create this more intricate design. This is a great trouser sock for work as this is a mid-weight sock. These are still soft, warm and very comfortable yet lighter in weight and not as thick in your shoe or boot. 41% Alpaca, 34% Acrylic. 23% Nylon and 2% Spandex.
Machine wash cold, do no bleach, tumble dry low and do not iron.
Sizing is by shoe size and the socks are unisex
Medium 5-9, Large 10-13
AlpacaArte – your home for warm, soft and comfy alpaca socks!