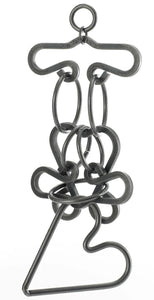 Object: This romantic disentanglement tavern puzzle features a metal heart intertwined in metal rings and loops. Surely we all can relate. Remove the heart to solve.
Puzzles are approximately 10.5" long, packaged in a drawstring muslin bag with information sheet that shows the puzzle and the objective. Solutions are not packaged with the puzzles. Solution can be requested via email by clicking the link under the "More" tab. 
Note: Each puzzle is mechanical in nature; removal of the object piece does not rely on force or trickery.