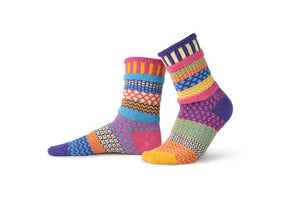 In honor of the 20th Anniversary of Solmate Socks, we decided to rejuvenate the Sunny Sock, which was one of the very first socks Marianne Wakerlin made in wool. These colors are inspired by the original Sunny Sock, this time using our signature recycled cotton yarn
Colors in this sock: purple, pink, gold, turquoise-blue, buttercream.
62% Recycled Cotton, 22% Recycled Polyester, 15% Nylon, 1% Lycra.
Small:
Medium:
Large:
Women 10 - 12 / Men 9 - 11
XL:
All numbers listed as U.S. shoe sizes