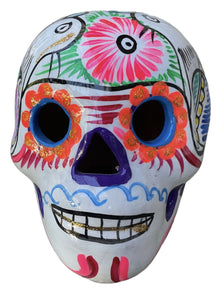 This eye-catching skull will certainly liven up your living area!  It's hand-painted in vivid colors and has a glossy finish. 

It's fully painted and glazed, but is not frost-resistant--so it needs to live inside.

This Beautiful Hand-painted Ceramic Sugar Skull was handcrafted in Mexico.

Each Skull is brilliantly and uniquely painted in a variety of colors.

These Skulls are traditionally used in the celebration of the Day of the Dead (Dia de los Muertos) in Mexico.

4.5" x 3.5"