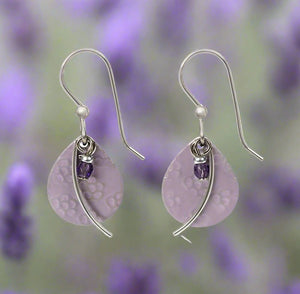 We believe that our earrings are about much more than accessorizing. They're about feeling beautiful, uplifted and confident. They're about expressing your true self. Our mission is to create wearable art that is as timeless and unique as you.
Silver Forest jewelry is enchanting, playful, filled with color, texture and movement. Our jewelry is made using quality materials and lovingly handcrafted in Southern Vermont.
Founded forty years ago, Silver Forest started selling its distinctive jewelry at craft shows throughout the Northeast. Today, Silver Forest jewelry can be found in retailers throughout the United States and Canada. Silver Forest jewelry is Handcrafted in Bellows Falls, Vermont. Natural elements, ancient cultures and a subtle sense of whimsy influence our designs. Our artistic use of stones, textured metals and color has always set us apart from our competition. Denim friendly and casual, Silver Forest is not a trend, it is a lifestyle— which is why we continue to be a top selling jewelry brand.
Our jewelry has wide appeal. As a line that is handcrafted, with an artistic flavor, we attract the craft gallery and boutique customer. With an eye on current color and fashion trends and our commitment to innovation, Silver Forest also appeals to the fashion conscious woman looking to accessorize. In addition, Silver Forest jewelry is very giftable; it is unique, domestically made and easy to wear, all at a consumer friendly price.
Most importantly, Silver Forest values our customers. Whether you are the end customer who has lost an earring or the buyer for an independent retailer, we treat you with the respect that you deserve. We continue to service your needs with a sense of attention and urgency that transcends traditional customer service!