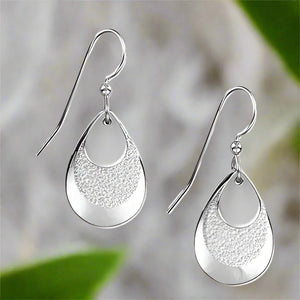 Silver Forest jewelry is enchanting, playful, filled with color, texture and movement. We believe that the difference is in the details. Our jewelry is made using quality materials and lovingly handcrafted in Southern Vermont.
Our earwires are surgical steel or surgical steel with a 18k gold overlay. Our earwires are nickel-free; as there is no nickel used in the plating process. This is a significant benefit to our metal sensitive customers who can buy our earrings with confidence.
We use genuine semi-precious stones. We also use glass beads, natural materials, and genuine crystal to accent our jewelry.
Our metals consist of raw brass or copper elements. Each shape or disk is cut and rolled out with our proprietary textures. We use scores of different textures and over 1000 shapes. All of our jewelry is Lead free and Cadmium free. The gold tone finish is a tarnish resistant 18k gold over brass, the silver tone finish is a tarnish resistant rhodium over brass, and the copper finish is a rose gold over brass. All of our jewelry is soldered together, never glued. This creates a slight variation in every piece, which gives the ambiance of wearable art.
We use three distinct color processes in the finishing of our jewelry. It is important to note that there will be slight color variations in the jewelry due to the different textures on the metal and how each process adheres to a particular piece of metal. The ceramic color process is a heat baked process that creates depth to each piece. The colors are opaque and because the finish is baked, the ceramic will last longer than the paint processes. The second color process is a hand painted color wash. The wash medium is a special formulation of paint which creates a very durable translucent finish. This color process is used to reveal the texture of the metal and have a sueded silk appearance. The third color process is epoxy, which gives the metal a glossy sheen.