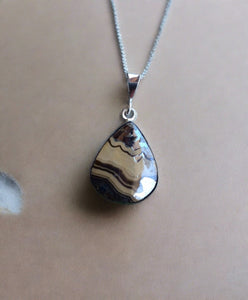 Teardrop shape
1 1/2" Total Length from Top of Bale to Bottom of Stone
3/4" Wide 
Pendant Only
Schalenblende forms in concentric masses that form swirls and bands of silver (Galena), Brown (Sphalerite) and Tan which is Wurzite. Wurzite is a rarer variation of Sphalerite which fluoresces orange under a UV light. The curving layers of these cool-colored bands can often resemble images of a brain, which correlates perfectly with Schalenblende's most influential metaphysical property: powerful thinking.
This stone clears the mind of confusion and racing thoughts to allow for greater concentration and space to "think outside the box." This newfound clarity can inspire creativity, making Schalenblende an excellent stone for creative individuals such as writers suffering from "writer's block". It's also an excellent tool for anyone faced with a difficult challenge that needs a unique solution.
Schalenblende's beneficial properties can aid in social situations as well. If you experience difficulty trusting or believing others because you were lied to in the past, Schalenblende can offer protection through a particular feeling of certainty and discernment. It is thought to help one distinguish truths from misinformation and strengthen confidence in one's own judgment.