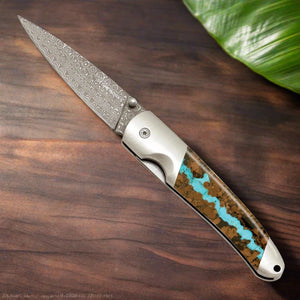 Damascus Steel
Damascus Steel is characterized by it's strength, edge holding ability, and it's dramatic appearance. The Damascus Steel used in our knives comes from Japan and is called "Sanmai Damascus" or Sandwich Damascus. There is a core of vg-10 steel with 16 layers of stainless steel on each side to produce a rust free Damascus look blade. These 4" closed Liner Lock knives are the most affordable Damascus knives we offer and has a 3" blade.
Vein Turquoise
The power of water, wind and time have worked it's magic at the Nacozari Mine in Sonora, Mexico, just south of Bisbee, Arizona. These forces have created beautiful Vein Turquoise, which runs like a river sandwiched between canyon walls. The host rock, or boulder, offers a wonderful contrast to the Vein Turquoise that it surrounds.
Our Vein Turquoise is a unique new presentation for Santa Fe Stoneworks pocket knives & table cutlery. We hope you enjoy our Vein Turquoise now, and as a future heirloom to be appreciated for years to come.