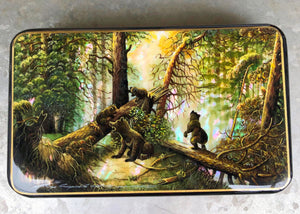 Russian lacquer boxes are among the most beautiful and distinctive of that country's art achievements in the 20th century. The boxes feature intricately hand-drawn miniature paintings based on a variety of themes, including fairy tales, poems, country life, troikas, landscapes, battle scenes, and old art masterpieces. They get their name from the many layers of lacquer (most often, black and red) that are applied to both their outside and inside sections. Coats of clear lacquer, or varnish, are the last layers to be put on and provide a stunning shine to the box.
The boxes, which vary in size, are extremely well crafted. It can take as long as two months to make a box out of papier-mache, a material many artists prefer because of its ability to withstand changes in atmospheric conditions and to avoid cracking. The lacquer box sitting on your mantel today will likely be enjoyed by many generations.
But it's the miniature paintings that bring real value to the boxes. Lacquer artists must not only excel artistically, but must also have the patience to spend long stretches of time working on the many small intricate sections of their composition. Artists will typically use strong magnifying glasses on these spots and very fine brushes made out of a squirrel's tail.
6" x 3 1/2"