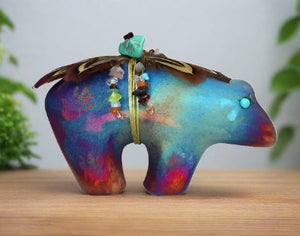 4" x 2.75" x 1.5"
Zuni says the bear has healing powers.  When faced with conflict, he helps you meditate to find the answers you need.
Note: every piece of raku pottery varies slightly in color.  The firing process, and the fact that each piece is hand-molded means each is one-of-a-kind! This item does not have a gift box.  The photo showing two bears is for your reference for the size difference between the small and large fetish bears.
Each hand crafted Fetish Bear is fired in an outdoor kiln.  Red hot, it is pulled from the kiln and placed into a pit with wood shavings.  The intense heat ignites a blaze, giving this bear unique flashes of color, making it one-of-a-kind.