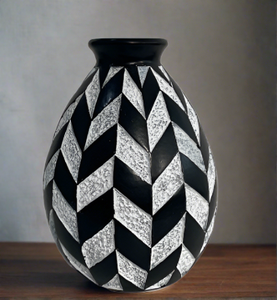 Mundo Handmade (formerly Mundo Village) offers some of the world's most distinctive products, all hand-made by master artisans from developing countries. Our current focus is in the beautiful works of Nicaraguan artisans, including its world famous ceramics.

We are the nation's leading distributor of Nicaraguan ceramics where many leading museum stores, galleries and various independent retail shops and fair trade vendors carry some portion of our collection.
Small Black and White Pot - Geometric pattern carved in deep relief. 6 in. tall.