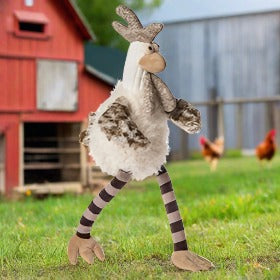 From narwhals to llamas, swans to goats, Fab Fuzz is a place where Mary Meyer lets the fabrics be the show. When you want your gift to make a statement, you won't find any fuzz more fabulous.
Why we love FabFuzz
– Inspired by unique and interesting fabrics
– Statement pieces that make impressive gifts
– Quirky, chuckle-worthy designs
– Some folks call it "designer plush"
– Wide variety of characters from farm to forest to fantasy and beyond
We packed a lot of fabrics and fun into our long-legged rooster. What a statement piece he'd make in a home!
– 17″
– Multiple textured, patterned, and length fabrics
– Plastic button eyes