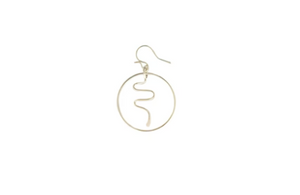 Mark Steel Soffe started his business in 1979 by designing bracelets and rings. He started showing his jewelry at the Park City Arts Festivals and then began selling it to a store at the local mall. Matt joined him in 1986 and since that time they have taken the business from a garage to a production facility with several talented artists. Through it all, Mark remains the artist, creating and designing jewelry that is both stylish and timeless. 
Mark Steel Jewelry is located in Kamas, Utah, a bedroom community just east of Park City, in the shadows of the picturesque Uintah Mountains. 
All of our jewelry is handcrafted by trained professionals who take great satisfaction in creating and producing every piece of jewelry in our shop. Whether it is bending, forging, soldering, peening, or smashing, our skilled artisans see each design through from start to finish and take great pride in creating the highest quality jewelry.
Wavy Circle Dangle Sterling Silver