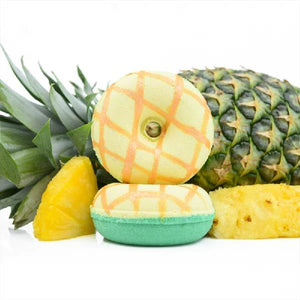 Our donut bath bombs will make bath time fun with their fizzing and foaming action, leaving your skin feeling moisturized & silky smooth.
Our new Pineapple scented Bath Bomb Donut is precisely what you need for a tropically fruity experience.
FEATURES:

YOU DESERVE ONLY THE BEST. Luxiny's Donut Bath Bombs are handmade with only the finest ingredients.
NATURAL AND ECO-FRIENDLY INGREDIENTS. Luxiny artisans hand-make each donut bath bomb with richly moisturizing and soothing Coconut Milk and Sweet Almond Oil. Sweet Almond Oil is known to nourish and calm your skin.
THE PERFECT GIFT. These donut bath bombs are perfect for kids, teens, and adults. They smell great and will leave your skin so soft that you will think you bathed in lotion.
WATER ACTIVATED. Activate the bath bomb by tossing it into warm bath water to release bubbles and fizz into the bath water.
MADE IN THE USA. Luxiny Artisans make each bath bomb by hand in Kimball, Michigan. After they are made, they are either painted or drizzled with a Cocoa Butter frosting. We are proud to say our bath bombs are Made in America.
OUR PROMISE SAID IS OUR PROMISE KEPT. Luxiny is a women-owned and operated small business. Our products are made in America with nature's finest ingredients that are free from silicones, parabens, and phthalates. Our all-vegan bath bombs are Leaping Bunny Certified.