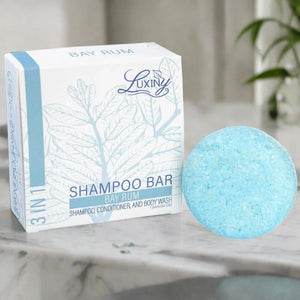 MORE THAN A SHAMPOO BAR  
Luxiny's Bay Rum 3-in-1 shampoo Bar will make your hair feel healthy and smell fresh. Great for travel (TSA COMPLIANT) and will help you reduce plastic bottle waste. Luxiny's shampoo bar will leave your hair soft and manageable and may also be used as a leave-in shampoo and shave bar.  

FEATURES:
TSA/TRAVEL FRIENDLY. Because Luxiny's shampoo bars are solid, they can easily fit into your overnight bag alongside your other travel-sized toiletries. These leak-free solid shampoo bars are light enough to carry in your backpack while hiking or camping and can be tossed into your beach bag or purse for an after-swim shower.
REDUCE PLASTIC WASTE. Luxiny's shampoo bars each equal two bottles of liquid shampoo, and you will get between 50, and 75 uses out of each eco-friendly bar. With each bar purchased, you will keep two plastic bottles from ending up in a landfill. With this easy transition to a greener life, your hair will look healthy and beautiful while helping the planet.
PLANT-BASED INGREDIENTS.   Luxiny's 3-in-1 Bay Rum Shampoo Bar is made with plant-based ingredients (like African Baobab Tree Seed Extract) that thoroughly cleans and conditions your hair and skin. We handcraft these vegan shampoo bars in the USA. Our shampoo bars are sulfate-free, silicone-free, and paraben free.
SAFE FOR COLOR-TREATED HAIR. These natural shampoo bars are safe for color-treated hair. Use the hair shampoo bar to clean and moisturize your hair and skin. The 3-in-1 Bay Rum Shampoo Bar is an excellent option for men and women and will leave your hair and skin smelling fresh.
OUR PROMISE SAID IS OUR PROMISE KEPT. Luxiny is a women-owned and operated small business. Our products are made in America with nature's finest ingredients that are free from silicones, parabens, and phthalates. Our all-vegan shampoo bars are Leaping Bunny certified. Our stateside customer service team is always ready to serve you, so do not hesitate to contact us if you have any questions or comments.