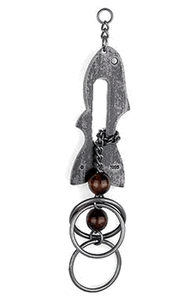 Holy Mackerel! This fish will tangle the line and steal the bait. It's no fluke if you flounder. (1995)

Object: Remove heavy ring.

Category: Complex
All puzzles are made from 6mm steel; some include wooden beads. Dimensions: 8" – 14" long, 4" – 6" wide. Weight: 12 – 20 ounces.

Puzzles are packaged in a drawstring muslin bag with information sheet that shows the puzzle and the objective. Solutions are not packaged with the puzzles. See the Solutions page, or request solutions in the comment section of your order.