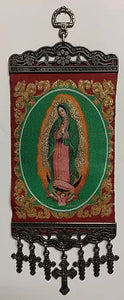 Our Lady of Guadalupe, Spanish Nuestra Señora de Guadalupe, also called the Virgin of Guadalupe, in Roman Catholicism, the Virgin Mary in her appearance before St. Juan Diego in a vision in 1531. The name also refers to the Marian apparition itself. Our Lady of Guadalupe holds a special place in the religious life of Mexico and is one of the most popular religious devotions. Her image has played an important role as a national symbol of Mexico.
Our Lady of Guadalupe Religious Icon
Medium Wall Icon
Metal and tapestry
Approximate Size:  Tapestry 4"x6", with metal 4"x11"