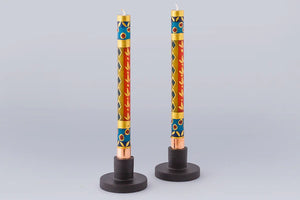 The rich colors and golds of the African Mineral collection makes these candles perfect for special occasions and holidays. While burning, these candles all have a beautiful glow from inside that lights up the wonder display of color!

Kapula candles are individually hand crafted and painted -- each candle is unique and is what makes these candles so special. Please be aware that your delivered candle will likely appear different from website photos, but will be consistent with the theme of the design. Dinner tapers ship as a matched pair.
All Kapula candles are made with the highest quality natural paraffin wax with cotton wicks. They are unscented, free of added toxins, smokeless and drip-free.  
Candle Tips:
First burn time - 1 hour for every inch diameter
Wicks should always be cut to ¼" prior to lighting
Avoid drafts - they cause dripping!
Please ensure candles are extinguished prior to leaving the room