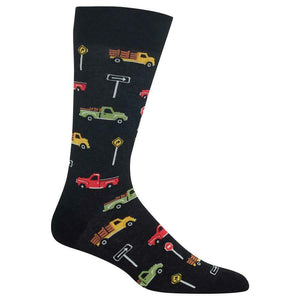 Men's Novelty Crew Socks
Hot Socks Collection
Pickup Trucks

Toughen up your every day looks with these bold pick up truck socks. 

Engineered from a high quality yarn blend, 

they combine the best of comfort and design.

One Pair per Package. 
Available in Black Background.
Men's Sock size 10-13, 
Fits Men's Shoe Size 6-12.5

Fiber content: 52%

 Cotton, 22% Nylon, 24% Polyester, 3% Spandex.

New with Tags.