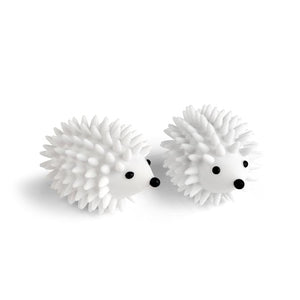 Get a load of these!
Going for a spin? You won't want to miss these hedgehogs. Hedgehog Dryer Buddies may look spiky, but they'll leave your fabrics soft to the touch! Ideal for delicate or sensitive skin, these adorable hedgehogs disperse the wet laundry in the dryer, helping heat circulate. Reduce drying times of your load of laundry and save energy!
Pamper your fabrics and speed up the drying process with the cutest hedgehogs around! The perfect prickly pal to keep fabrics looking sharp and feeling soft!
No measuring, no pouring, and no feeding required, simply pop these Buddies into the dryer to remove wrinkles, control static, fluff your laundry, and reduce drying time! Eco-friendly and fabulous, you'll be blown away by these Hedgehog Dryer Buddies.
Designed By: KDT
Dimensions: W-3.5" H-2.6" L-2.6"