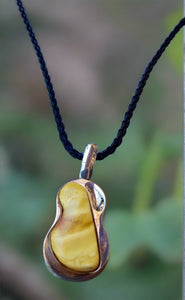 Not everyone knows the spectrum of dazzling colours that Baltic Amber has to offer. In fact, there are 250 different shades of natural Amber - from the most common cognac hues to bony whites, Amber is a truly versatile, semi-precious stone. Yet in-fact, did you know that Amber is not actually a stone at all? Learn more 
about the Properties of Baltic Amber
 in our Jewellery Encyclopaedia. 
Through the years we've come to learn more and more about this intriguing "stone". One of the things that first surprised us was the huge variation of colours that exist and in fact, n
o other kind of
Amber
 possesses the diversity of colours equal to that of our favourite Baltic kind. Of those darling hues, is
Butterscotch Amber
. Whether it is because of its rarity, uniqueness or rebellious nature at the raw amber market, natural Butterscotch Amber reaches considerably higher prices than other shades. 
2 1/4 Total Length
3/4" Width
Pendant Only 
All Sales Final On Sale Items