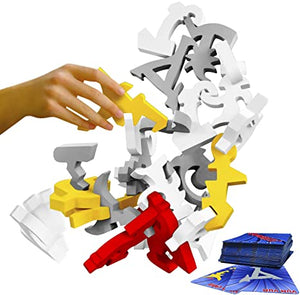 About this item
QUAGGLE is an exciting, fast paced and extremely addictive balancing game. Place, interlock or hook your piece and stack your way to the top. One wrong move could send the structure tumbling. Made of solid wood.

NEVER GETS BORING! Guaranteed not to collect dust in your closet. Hook it, lay it, interlock it, or hang it, place your piece by any way imaginable. Every structure is unique every game is different. Picture worthy every step of the way.

GAME PLAY: Take turns drawing cards and stack the piece shown, one by one the structure will grow until one person sends it all crashing down! Get the free Quaggle Timer App (iOS and Android) and unlock the full game's potential. Exciting gameplay for up to 12 people.

Quaggle is an engineering masterpiece combining art, design and physics to create the ultimate stacking game. This deluxe game is made for all ages, young and old. Improves hand-eye coordination and develops fine motor-skills. Award winning (Mom's Choice Awards Recipient) Gold Award, Creative Child – Stacking Games Game of the Year. STEM and STEAM game.