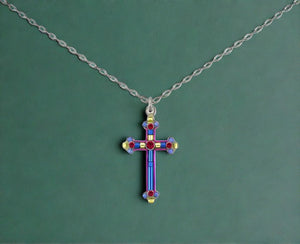 The French ear wires are either made of sterling silver or gold fill. Posts are made of surgical steel. The lever back earrings are on high quality Euro wires, which are either antiqued brass or silver-plated antiqued brass.
Bracelets are 7" long. Necklaces are 16" (18' w/extension) unless otherwise noted. The cross pendant necklaces are 17" (19" w/extension). We have updated our necklace chains, in 2020 we switched to all rhodium plated finish. The intricately embellished mosaics are inset with a combination of European glass beads, brass and German silver wire. The findings used in the jewelry are brass that has been silver plated and then antiqued.
Variations in European Crystals
There are slight natural variations in the colors of the European crystals that we use, especially in the Dolce Vita line. We are unable to control the variations of color in the stones; we do not guarantee that all the crystal stones will be an exact match.
Jewelry Care & Cleaning
Please clean our jewelry with a soft cloth. Chemical baths as this will strip the beads of coatings and destroy the finish on the metals. We recommend putting on perfume and moisturizer before putting on the jewelry, because the chemicals in those can damage the finishes on the jewelry.
 Jewelry Repair 
Firefly will repair or replace jewelry that is currently in our current line, or on designs that have been discontinued for one year or less.
Please email us photos of jewelry pieces that you need repaired for repair approval. Email photos to firefly1@sonic.net. This way we can confirm that we have the parts to repair the damaged jewelry. We do not issue RA numbers. There is no cost for the repair. Once your item has been approved for repair, please put the item in a padded envelope and mail it to our Oakland office.
Send Jewelry Repairs to us at:
Firefly Jewelry
2121 Peralta St #133
Oakland, CA 94607