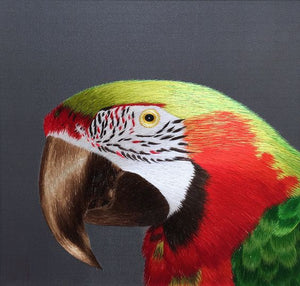 Handmade embroidery silk art with Certificate of Authenticity.
• Framed, mounted size 30x30cm, art size 20x20cm.
• Matt color  off white 
• Silk colors shimmer when light hits and softly glow in dim-dark areas.
• The inventory artworks are vary slightly from the web photos due to hand-stitching.
• The inventory artwork looks much better than web photos as web photos can not show the silk shimmers.
A talented artist spent months and sometimes years hand stitching this gorgeous Silk Art. This handmade Silk Art is an entirely natural form of art. No glues, paint or machinery, just silk, vegetable dyes and a needle. Compared to prints and paintings, silk artwork has a nearly 3 dimensions look and very high value. It is a real one-of-a-kind artwork.