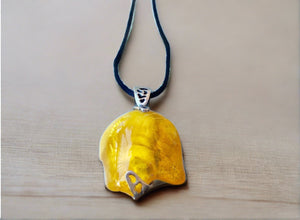 The Baltic region is home to the largest known deposit of amber, called Baltic amber or succinite. It dates from 44 million years ago (during the Eocene epoch).[1] It has been estimated that these forests created more than 100,000 tons of amber.[2] Today, more than 90% of the world's amber comes from Kaliningrad Oblast of Russia. It is a major source of income for the region; the local Kaliningrad Amber Combine extracted 250 tonnes of it in 2014,[3] 400 tonnes in 2015.[4]
"Baltic amber" was formerly thought to include amber from the Bitterfeld brown coal mines in Saxony (Eastern Germany). Bitterfeld amber was previously believed to be only 20–22 million years old (Miocene), but a comparison of the animal inclusions in 2003 suggested that it was possibly Baltic amber that was redeposited in a Miocene deposit.[5] Further study of insect taxa in the ambers has shown Bitterfeld amber to be from the same forest as the Baltic amber forest, but separately deposited from a more southerly section, in a similar manner as Ukrainian Rovno amber.[6] Other sources of Baltic amber have been listed as coming from Poland and Russia.
Because Baltic amber contains from 3 to 8% succinic acid, it is also termed succinite.
All Sales Final On Sale Items 
Pendant Only
2 3/4" Total Length
1 1/2" Width