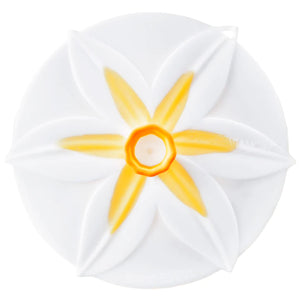 BPA-Free, Food-Grade Silicone
Microwave Safe
Dishwasher Safe
Oven/Stovetop Safe up to 428°F/220°C
Refrigerator/ Freezer Safe down to -40°F/-40°C
These beautifully designed lids create an airtight seal on smooth-rimmed containers and reduce your use of single-use plastic wrap and aluminum foil.
Perfect for cooking, reheating, and storing: Guard against splatters and spills while retaining heat, keep food fresh and mask unpleasant odors, or add a splash of color to any table setting!

6" lid designed for containers up to 5.5" in diameter.

Not intended for use in a toaster oven. Do not carry containers by lid handle. Lid and bowl must be dry and clean to function properly. Do not expose to direct flame. Do not wash with abrasive products.