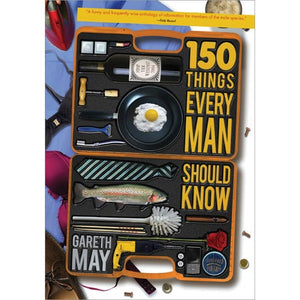 Grill the perfect steak. Hit the perfect shot.
BE THE PERFECT MAN.

You hold in your hands the essential MANual to mastering everyday life as a guy. It's not easy being a man in today's world—living up to others' expectations of manliness can be nearly impossible. But if you memorize and utilize the tips and tools in this indispensible handbook, you'll no doubt find yourself dominating even the most challenging aspects of manhood.

Inside you'll find the 150 most important things men need to know. From the skills you need to master, to the tricks you should always remember, and even a way to sound the perfect wolf whistle.
Learn how to:
Iron a shirt just like your mom
Beat anyone in arm wrestling
Fake a perfect sick day
Throw the ultimate bachelor party
Master the art of speed dating
Give yourself a haircut
What Readers Are Saying:

"If you are looking for something amusing for any of the men in your life, whatever their age, this is for you."

"Only downside is there is no tip on how to get urine out of your jeans after you've finished wetting yourself from laughter!"

"I loved the witty, self-deprecating tone of the writing—he sounds like an eccentric uncle."