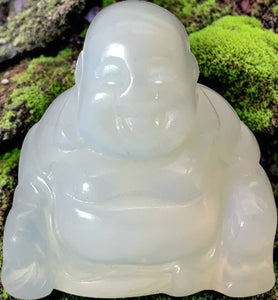 About this item
Package: 1 x buddha. Size: 1.5" approx 1.5"(38-40mm) tall, 1.4"(36-38mm) wide, 0.7"(18-20mm) thick. Weighs 80-85 grams.

Hand Carved: well polished, please allow size, shape, pattern of stone may vary from lots.

Housewarming & Business Gift: the laughing Buddha with good symbolism of wealth, happiness, good luck, and prosperity, will work wonderfully for your home or office.

The Maitreya Buddha is a immortal in the old east myth, he always keep smiling to everything in the world, contains the people looking forward to a better future, can bring them happiness. It's a symbol of tolerance, kindness, wisdom, humor, happiness.

Healing Crystal Buddha: perfect for home, garden, fengshui, reiki, chakra balancing, positive energy, meditation, birthstone, collection, decoration, ornament, fengshui tool, bookend, pocket stone, lucky stone, reminder stone, worry stone, palm stone, art design.