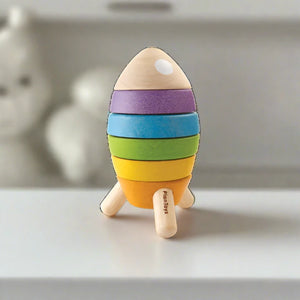 Build the rocket by stacking and matching the pieces, set the astronaut on the seat and start the countdown 3..2..1, lift off!
Take off to outer space with the Stacking Rocket that supports fine motor skills, logical thinking and problem solving!
Time yourself as you stack the rocket for an added challenge
Includes a base for play and colorful rings for ordering and stacking
Sustainably made in Thailand using chemical-free rubberwood, formaldehyde-free glue, organic pigments and water-based dyes.