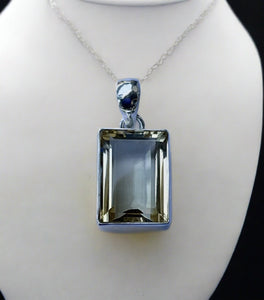 Its pale yellow color gives this crystal its name, Citrine, coming from the French citron, meaning lemon. But apart from its literal meaning, it also has a deep spiritual meaning.
The spiritual meaning of Citrine is its yellow hues symbolizing the spiritual qualities of joy, abundance, and transmutation.
Like a refreshing glass of lemonade, Citrine can bring a quick, energetic pick-me-up to those who use it with diligence and respect.
In times of low to moderate stress, this crystal is a perfect ally for realigning your energies back into balance. In contrast, other, more powerful crystals may be necessary for more profound healing.
But do not let that discourage you from its importance, for Citrine knows that in these first initial moments of confusion and dismay, we can most easily recalibrate our energies and move back onto our true paths.
1.5" x 3/4"