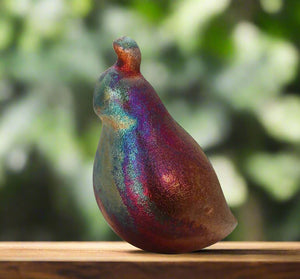 2.75" tall x 1.75" wide x 2" " deep.
Note: every piece of raku pottery varies slightly in color.  The firing process, and the fact that each piece is hand-molded means each is one-of-a-kind! The one you receive will vary slightly from the photo.This item does not have a gift box. May we suggest adding an adult quail to your order?  The combination creates a family.
Each hand crafted quail figurine is fired in an outdoor kiln.  Red hot, it is pulled from the kiln and placed into a pit with wood shavings.  The intense heat ignites a blaza, giving this baby quail unique flashes of color, making it one-of-a-kind.
Raku pottery can fade over time when exposed to direct sunlight, so we recommend placing this beautiful hand crafted piece of art in areas that do not receive direct sunlight.