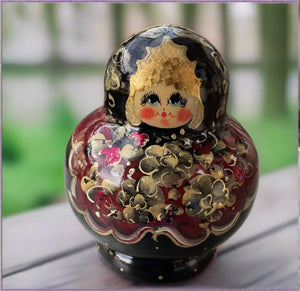 10 dolls in this set.
The first Russian nested doll set was made in 1890 by wood turning craftsman and wood carver Vasily Zvyozdochkin from a design by Sergey Malyutin, who was a folk crafts painter at Abramtsevo. Traditionally the outer layer is a woman, dressed in a sarafan, a long and shapeless traditional Russian peasant jumper dress.
Russian nesting doll in black/wine/gold.
5.5" Height