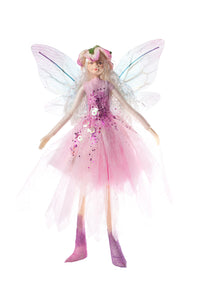 The fairies are brought to life by a loving family business inspired by cottage industry. The owners of the company, a brother and sister duo, inherited the business from their parents. They originally assembled silk flowers until they could not compete with the lower wages in China. Together they embarked on a new endeavor developing fairies. The brother focuses on running the company, while the sister creates the designs. Tassie Design is a company with 100% original designs implemented by artisans who have many years of experience.
The fairies are ethically produced in Thailand. Each one is finely detailed with hand-painted faces & a wide range of materials used in their clothing, including satin, silk, nylon, florist paper, plus sequins, glitter & beads. They are bendable & each comes with a golden thread on which to hang. All styles, except the mermaids, come with a bronze leaf to stand on. They are a wonderful addition to any Christmas tree and decor!
A new collection is released once a year. They are also a good cause to support as they are produced by women in the rural north of Thailand where work is scarce & each worker is paid a fair wage for production. Additionally, a portion of profits from the parent company in Bangkok is paid into a government-managed fund which improves infrastructure in those rural areas, such as clean water supplies & communications.
The fairies and elves are ALL 5" and mermaids are ALL 6".
The fairies and elves are beautiful, collectable ornaments for decoration.
They are not toys.