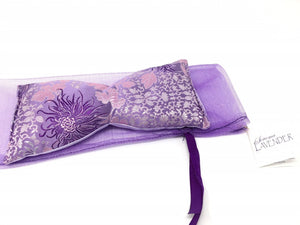 A lavender eye pillow can create a moment of sublime tranquility in an otherwise hectic day. Encased in gorgeous luxury fabrics, the relaxing fragrance of lavender combines with the cool weight of flaxseed to soothe tired eyes.
The calming restorative effect is remarkable. The gentle weight eases pressure and blocks out light, relieving stress and mental fatigue.
Freeze for cool comfort.
Organza gift bag included.
9"