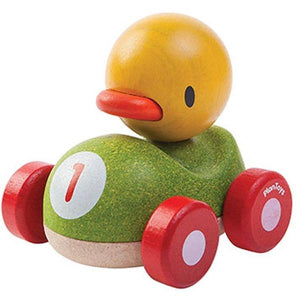 Duck Racers have a gentle curve design which is easy for children to hold and push
Enjoy competitive fun with the Duck, Chicken, and Rabbit cars. They have a gently curved design that makes it easy for children to hold and push.
Race the Duck Racer alongside other PlanToys racers for a fun, competitive play experience
Invites children to strengthen their communication skills while exploring interactive, dynamic play
Designed to fit little hands — making it easy for children to push, pull, grasp, glide and manipulate
Sustainably made in Thailand using chemical-free rubberwood, formaldehyde-free glue, organic pigments and water-based dyes.